KinderImmun
KinderImmun* is perfectly adapted to the needs of the child's immune system. It contains vitamins that support the immune system* and growth5 of children. The whole family can benefit because the ingredients also help reduce fatigue and exhaustion4. Vitamins B2, C and zinc also help reduce oxidative stress3. In addition, the supplement is tasteless and is ideal to incorporate into your children's cold foods and drinks.
The active complex in KinderImmun* consists of various natural and valuable ingredients. The immune combination was developed* for the whole family, pregnant women and nursing mothers.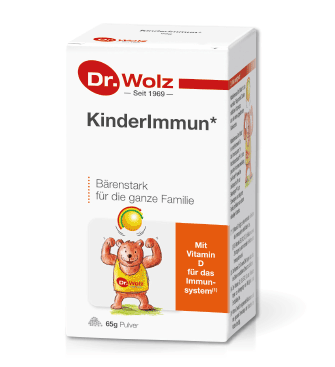 ---
Ingredients
Zinc
Zinc supports our immune system and contributes to a balanced metabolism2
Exclusively natural
Biologically bonded zinc
Lactic acid bacteria (lactobacilli)
Bifidobacteria occur naturally in our intestinal flora
It was selected among thousand other because it showed the highest potential in studies
Vitamin C from the acerola cherry
Promotes a normal and healthy immune funtion2
High percentage of naturally sourced vitamin C
Colostrum
Name given to the first milk from cows
Inulin
Prebiotics
B-complex vitamins
Gives additional support
Carefully selected B-complex vitamins - including the folic acid
(1->3), (1->6) - beta D glucans
Very valuable long-chain dietary fibres (natural polysaccharides)
Valuable beta glucans originate from yeast
Obtained from the cell walls of the smallest fungus in the world
---
Active Ingredients
Inulin, Glucans, Acerola cherry juice powder, Colostrum concentrate, Zinc yeast, Lactic acid bacteria (Bifidobacterium longum)
3 measuring spoons contain:

Vitamin C
48 mg
Vitamin B1
0,66 mg
Vitamin B2
0,84 mg
Vitamin B6
0,84 mg
Vitamin B12
1,5 µg
Folic acid
120 µg
Zinc
3 mg
Vitamin D3
10 µg
Recommended intake
For children up to 6 years take 2 measuring spoons/day, children aged 7 and older and adults take 3 measuring spoons/day. Stir into a beverage or, for example, yoghurt. Tasteless. Do not exceed the recommended daily dose shown. Keep out of the reach of small children. Not for infants and young children. Food supplements are not meant to be used as a substitute for a balanced and varied healthy diet.
Infants and toddlers can use Curabiom baby or Darmflora plus Kinder + Familie Dr. Wolz.
Please, avoid mixing it into hot meals or beverages so the contained probiotics and colostrum does not get destroyed.
A varied, balanced diet and a healthy lifestyle are important for health.
* 1 Vitamin D contributes to the normal function of the immune system.
2 The vitamins B6, B12, C, D, folic acid and zinc contribute to normal functioning of the immune system.
3 The vitamins B2, C and zinc aid in shielding cells from oxidative stress.
4 The vitamins B2, B6, B12, C and folic acid contribute to lessening tiredness and fatigue.
5 Vitamin D is required for healthy growth and healthy development of bone in children.